FEATURES:
Nowadays, bamboo products become more and more popular due to its unique style, eco-friendliness and durability.
1. The material natural bamboo is harder and more durable than wood, eco-friendly;
2. Bamboo board is lightweight, can double as serving trays;
3. Its unique design of fetching aesthetic look could also prevent warping;
4. The glue has been tested for food-safe;
5. Its beautiful natural finish is carbonized, with no dyes or stains used;
6. Sleek board is scratch & moisture resistant, won't dull knives;
7. It has characteristics of no crack and falling dregs;
8. Treated with special process made it antibacterial;
9. MOQ: 3000 pcs each time;
10. OEM design and customized is available.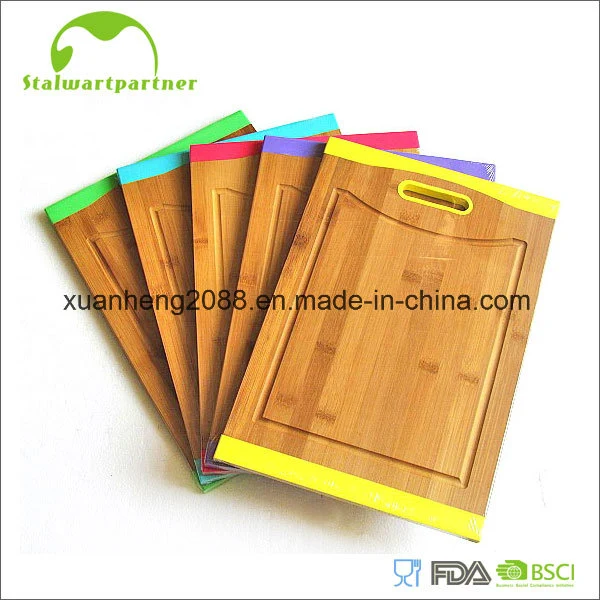 Product Description
Mainly products: Bamboo cutting board/chopping block/blocks, bamboo bread board, bamboo cheese set, bamboo cutlery box, utensil set, spoon, fork, tong, slotted, spatulas, soup spoon, bamboo tea box, bowl, pen holder, serving tray, tray, tray with leg, bamboo cup mat, bamboo dish rack, bamboo laptop/notebook desk, bamboo shoes rack, bamboo trangle rack ects...
Which have promising markets in Europe, America and southeast Asia.
1. Eco-friendly products
2. Cheese board
3. OEM service offered
Care and Use
All of our products are hand made from top quality organically grown bamboo. Core Bamboo products should be hand washed with soapy warm water and wiped dry. Our products are not meant for the microwave, oven or dishwasher. Our bowls are meant for cold and warm foods, using them to serve very hot items such as soup will alter the shape of the bowls over long periods of time. This is true of all wooden bowls as well as bamboo. Cutting boards and trays temperatures but should still not be used in the microwave, oven and dishwasher. It is also suggested to apply any food safe mineral oil to all bowls and boards when the bamboo starts to look tired, this will keep the bowl fresh and will help in preserving the natural character that each product has.
About Bamboo
The very thought of bamboo conjures up images of exotic tropical scenes - tall, green bamboo forests gently swaying in the soft, warm breeze. Bamboo has helped humankind since time began for shelter, weapons, food, and medicine. Something about bamboo fulfills a basic human need of getting back to nature and a more simple life.
Bamboo is actually a grass that grows to a harvestable height between 3 - 5 years. Some species grow up to 2 feet per day. After harvesting, bamboo does not require replanting, it has an extensive root system that continually sends up new shoots, naturally replenishing itself, making it one of the most renewable resources known.
If you want more detailed information of this product or related problems, please contact with us, we will reply as soon as possible (general in 24 hours)...Can endure hotter
Our Company details:
Company Location: Ningbo city zhejiang
Main Market: Australia ,Middle East ,Africa ,North America, South America.
Quotation -- we quote base on your watch dislay kitchen plan, Qty, Cabinet material and hardware.
Delivery time -- 40 to 50 days after receiving the deposit . But also it will depend on quantity and which product
Port -- Ningbo or Shanghai of china
Payment terms -- 30% T/T in advance and the rest against T/T or L/C .
Quality control-- We have own professional QC team for each order.