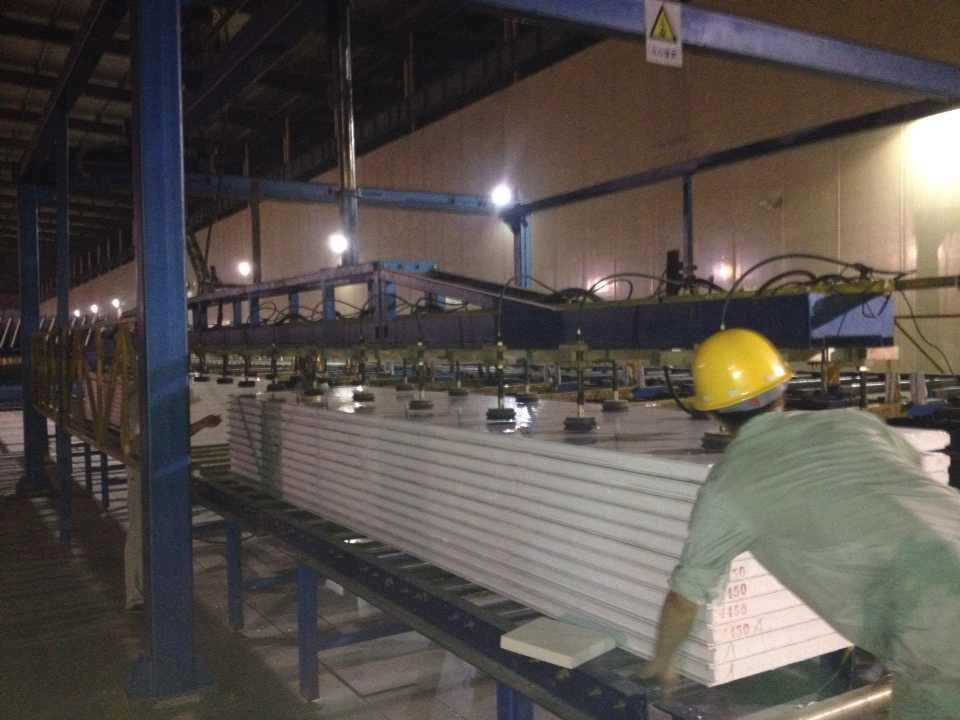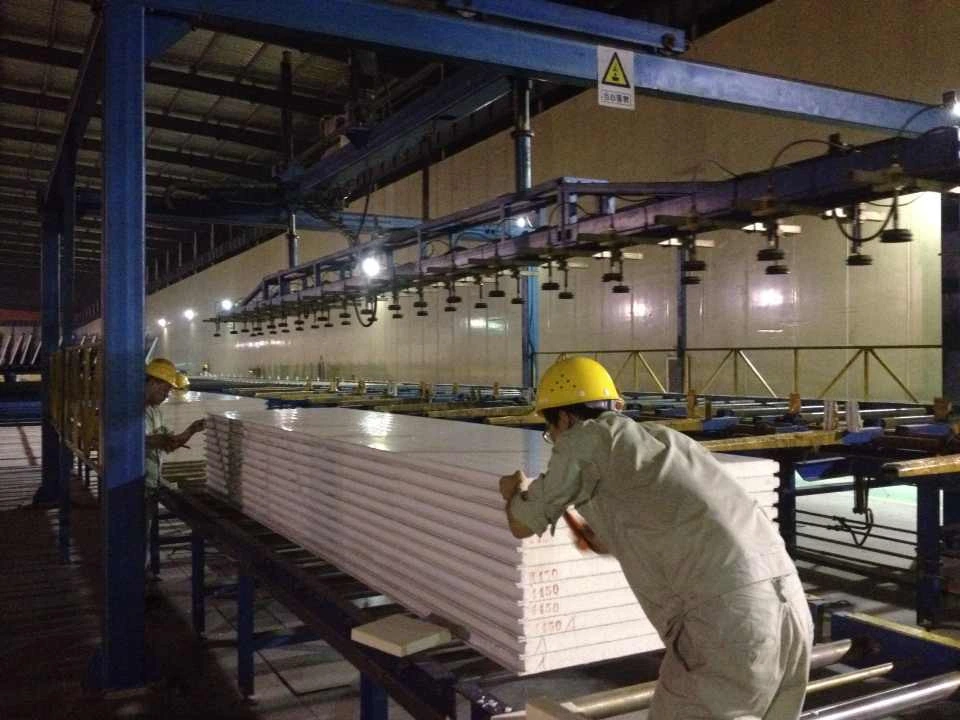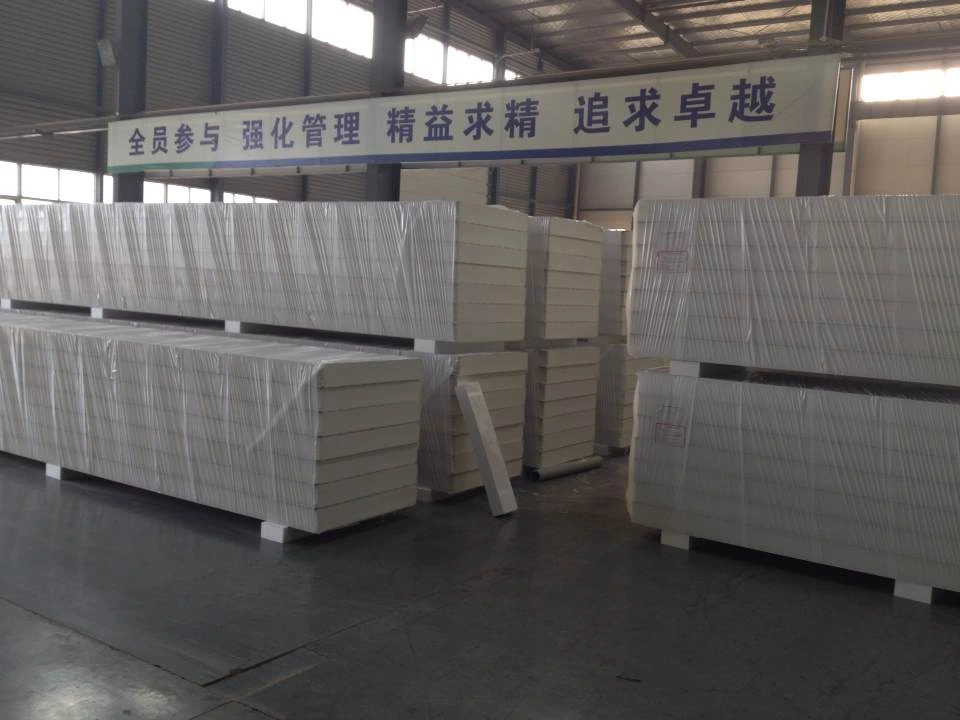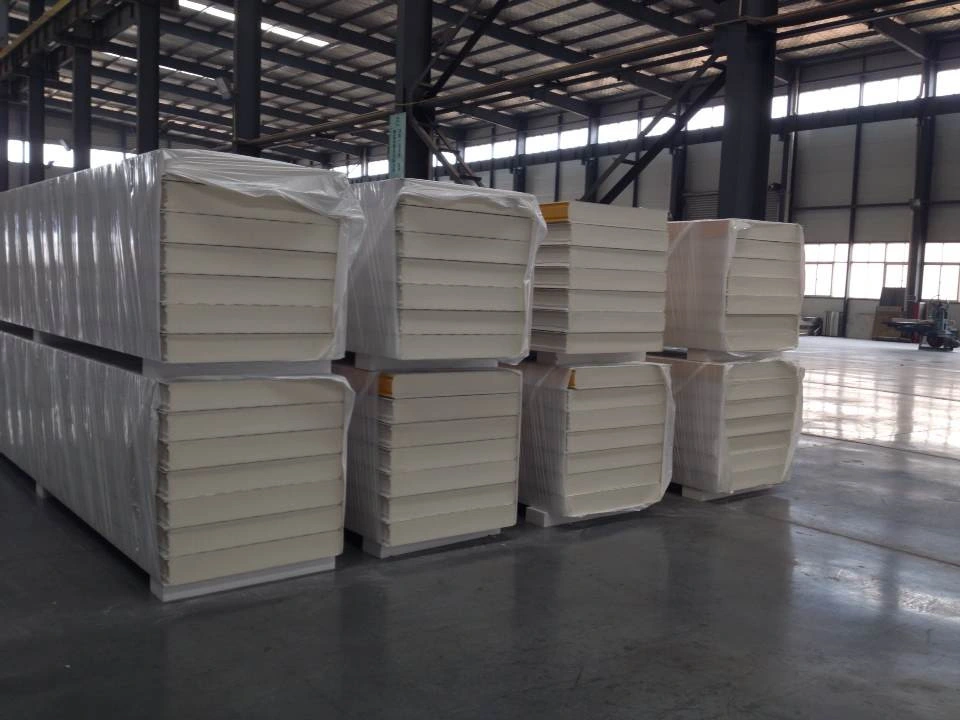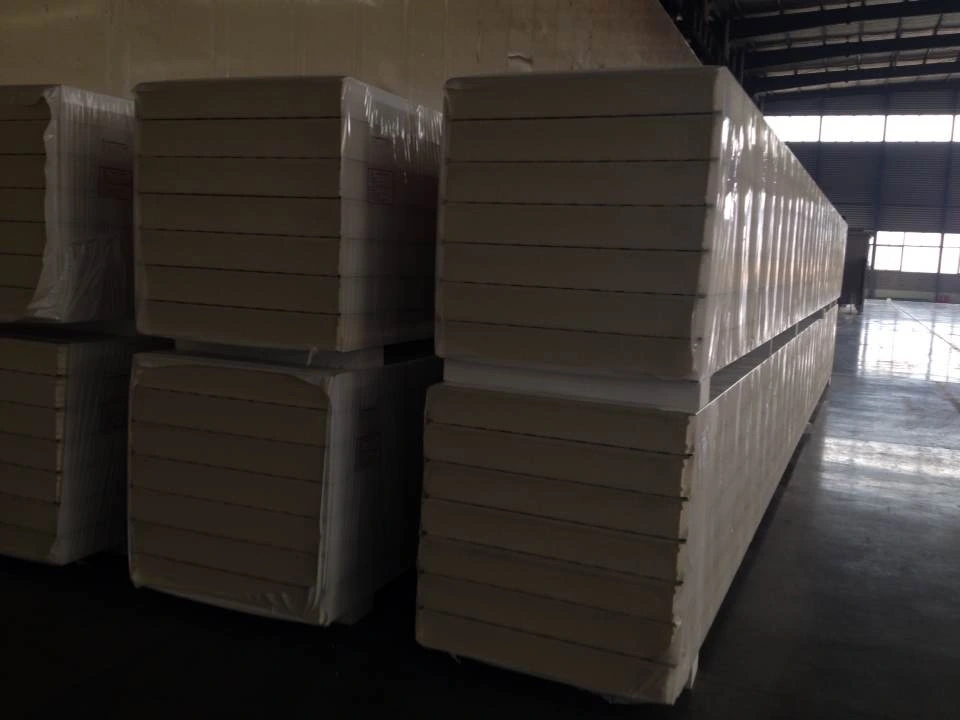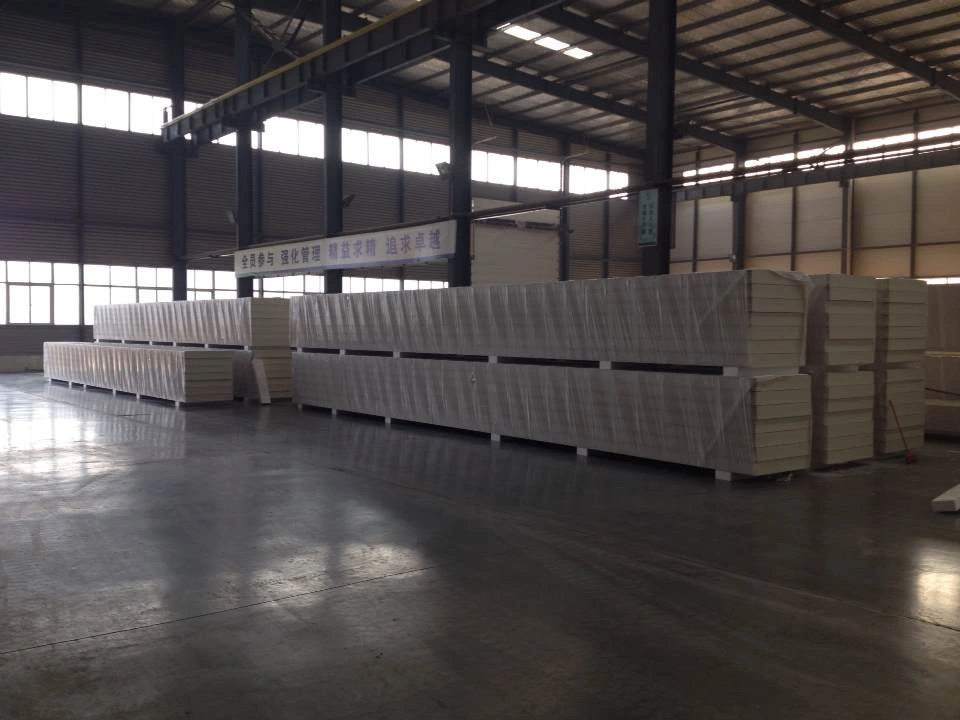 Specifications
1 Light weight
2 Good insulation against heat and sound
3 Easy to construct and economical
4 Elegant appearance
High Fireproof Sandwich Panel is cold rolled into the required profiles from prepainted galvanized steel sheets or prepainted galvalume steel sheets, which is used as roofing panel in all kinds of buildings, such as industrial and civil buildings, warehouse, particular building, inner and outer decorative wall. And there are direct overlapped model, hidden screw model, self-locking model, steel tile sheet, as per your requirement.
High Fireproof Sandwich Panel adopts fibrous rock wool as the core material, and color steel plate as its surface layers. The rock wool and two color steel plates are pressed together through the automation of a forming machine and then glued together by a high strength adhesive. Since the color steel plate and the rock wool are noncombustible, the rock wool sandwich panel has an excellent fireproof property. Our rock wool sandwich panels include roof panels and wall panels. Since they are fireproof, heat insulated and sound insulated, they are widely used to construct roofs and walls of industrial buildings and civil buildings, warehouse, particular building, inner and outer decorative wall. They are especially suitable for use in buildings that require a high degree of being fireproof.
Payment terms:
T/T, Western Union 30% deposit, balance before shipment, L/C is available.
Trade term: FOB, CIF, CNF&EXW are available
2013 rockwool insulation panel wholesale Advantage
1. With PIR side seal to avoid cold bridge and better anti-water performance
2. Connected by blind nails and have no exposed screws on surface
3. Energy saving, heat insulation, fire resist, sound insulation
4. Various surface forms and colors
5. Save both construction time and construction cost
6. Stable color under outdoor exposure for over 35 years
7. Lower the dependence on auxiliary steel structures
8. With GB standards, meet ISO 9001-2008 and ISO 9001-2000
High Fireproof Sandwich Panel Packing Information
Safe export package: Square tube+ angle iron+ frame structure+ packing belts
Why choose High Fireproof Sandwich Panel
30 years experience in manufacturing and exporting, service will be more professional
24-hour hotline, service more swiftly
Germany Krauss Maffei production line, good quality product.
Related drawing design
Near by the port Dalian, more rapid delivery
Professional foreign trade operations, services are more circumspect
Free sample can be provided
Free drawing analysis
Usage:
The High Fireproof Sandwich Panel has been a new type of multi-purpose construction material. It is featured with temperature keeping, hot & sound insulation, water-proof and fire-resistant functions as well as light weight and decorative application. It is widely used as the wall or roof for industrial or residential buildings, such as cold storages, industrial workshops, prefabricated houses, etc.
| | | | | |
| --- | --- | --- | --- | --- |
| Density | Thickness | Width | Thermal Conductivity-K | Thermal Resistance-R |
| Kg/m3 | mm | m | W/m.K | m2.K/W |
| 60 | 50 | 1.2 | 0.044 | 1.14 |
| 60 | 75 | 1.2 | 0.044 | 1.71 |
| 60 | 100 | 1.2 | 0.044 | 2.27 |
| 80 | 50 | 1.2 | 0.044 | 1.14 |
| 80 | 75 | 1.2 | 0.044 | 1.71 |
| 80 | 100 | 1.2 | 0.044 | 2.27 |
| 100 | 50 | 1.2 | 0.043 | 1.16 |
| 100 | 75 | 1.2 | 0.043 | 1.74 |
| 100 | 100 | 1.2 | 0.043 | 2.33 |
| 120 | 50 | 1.2 | 0.043 | 1.16 |
| 120 | 75 | 1.2 | 0.043 | 1.74 |
| 120 | 100 | 1.2 | 0.043 | 2.33 |
The parameter of rock wool sandwich panel
Effective width
Wall panel: 950mm 1150mm 1200mm Roof panel: 9 6 0mm 980mm
Length
According to your request
Materials
Rockwool, Color steel sheet
Structure
Upper and lower layer: Color steel sheet
Middle: Rockwool
Thickness
Color steel sheet: 0.3-1.2mm
Rock wool : 50mm 75mm 100mm 150mm
density
90 --150kg/m3
Conventional color
According to customer's request
Thermal load contraction temperature
643 degree
hygroscopic property
3.90%
5Organic matter content
2.90%
Organic matter content
≤ 4.0
thermal conductivity
0.044w/m.k
preme practical temperature
400-600
Character
Light in weight, heat insulation, water resistant, green and environmental
Use
drying room, bake painting house, paint coating production line and shipping industry; ceiling and partition of clea