Product Description
Aluminium honeycomb panel with semi-circle design for round column envelope and decpration or suspended ceiling decoration. Sizes and diameter are customized as per customer's requirements.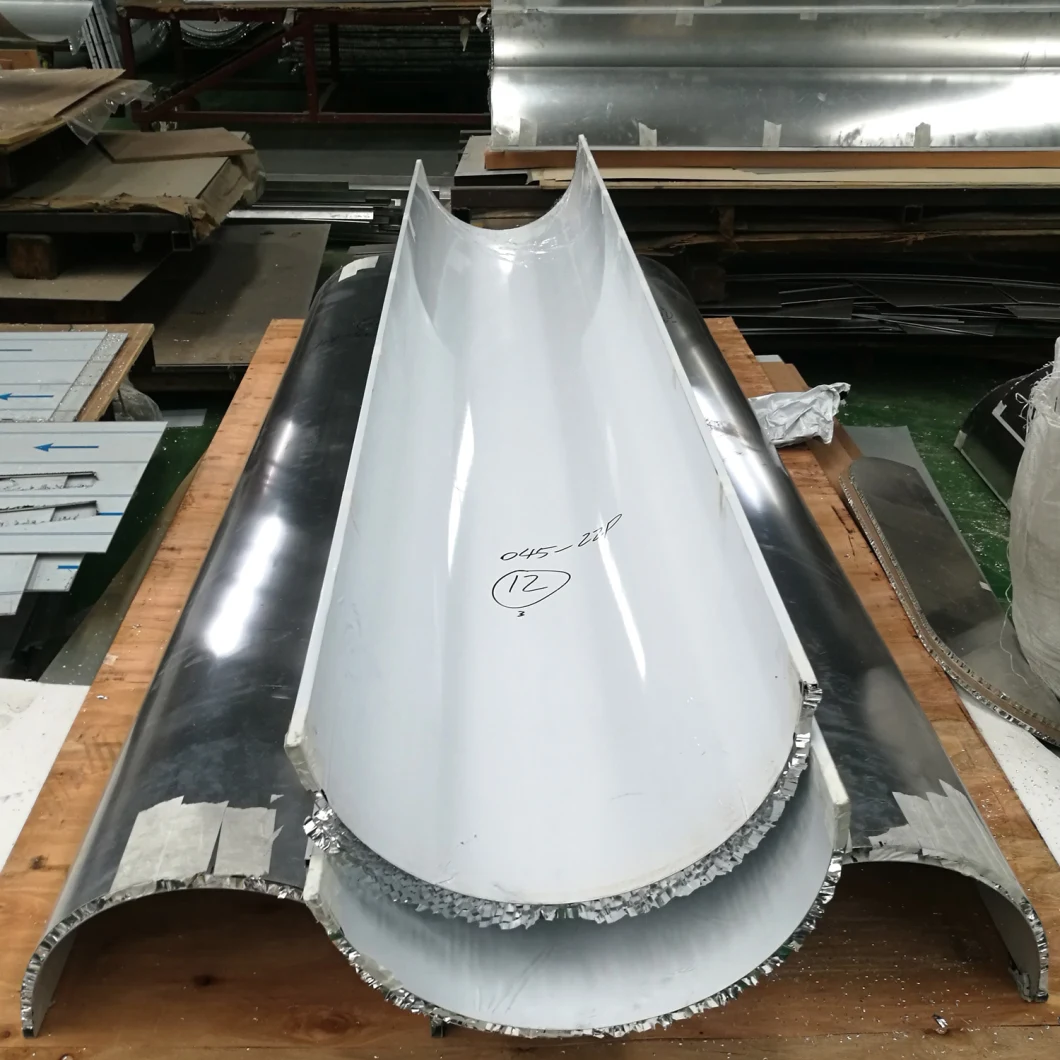 We're professional manufacturer of metal architectural panels from Foshan, China with more than 10 years of experience in fabrication and designs. We can design and fabricate the solid aluminum panels, aluminum honeycomb / sandwich panels, aluminum composite panels and other metal panels according to customers' designs, specifications and drawings.
High Quality Competitive Pricing Aluminum Honeycomb Composite Panel for wall or ceiling decoration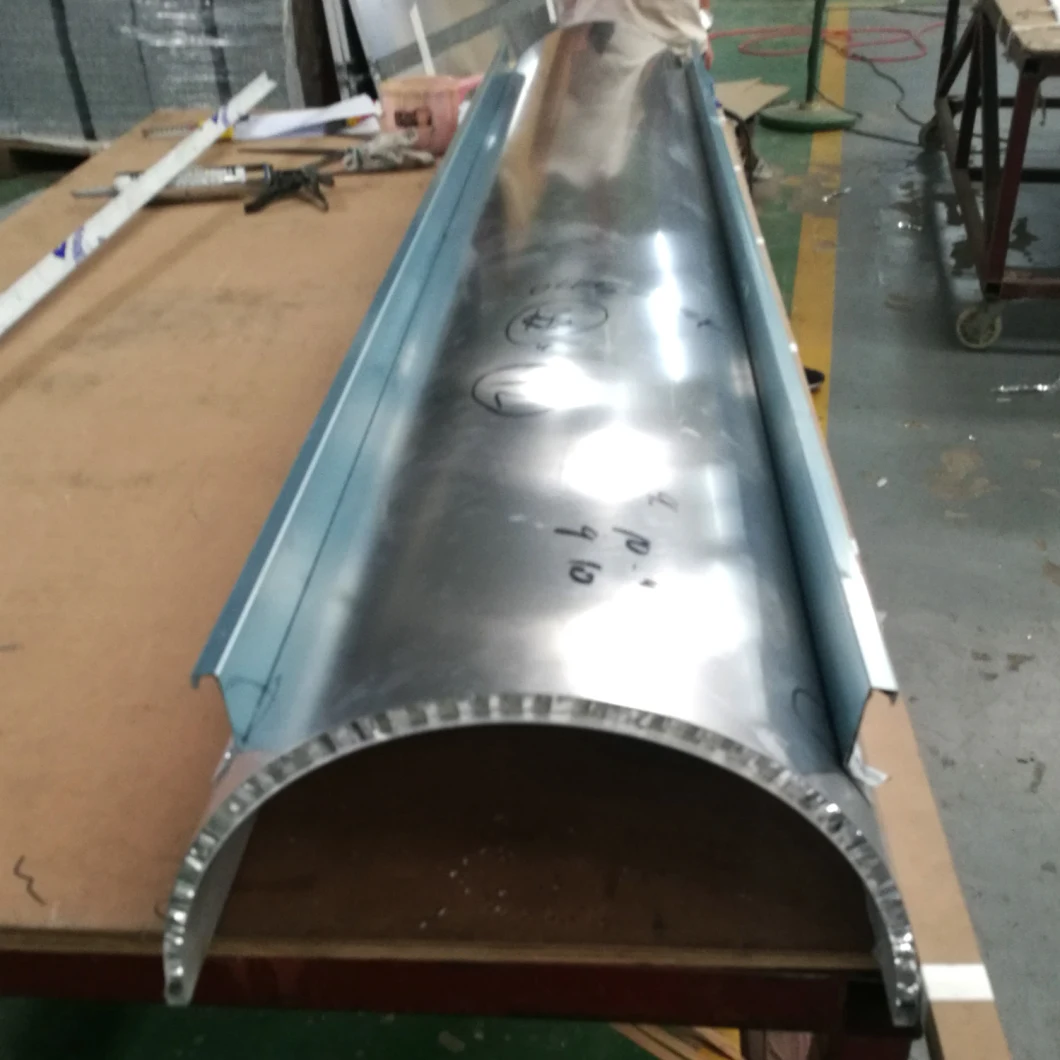 There are many options of building decoration materials on the market, but aluminum honeycomb composite panel is the better option because of its special features and advantages, including but not limiting as follows:

* Lightweight.
Only 3kg to 10kg per square meter for thickness of 6mm to 300mm.
* Strong. Minimum loading capacity is 50kg or 0.89MPa.
* Smooth surface. As the facing aluminum sheet is made from roller coating finish, the surface finish is very even and smooth, much better than spray coating finish in painting and color uniformity.
* Good flatness. As internal honeycomb structore has very good mechanical properties, the surface of honeycomb panels is very flat.
* Straight bending corners and precise dimensions. As the thickness of facing aluminum sheets is only 0.7mm to 1.5mm, and bent by CNC machine, the finished panels are very straight and dimensions tolorance is very small.
* Large sizes are available, maximum size is up to 2,500mm x 12,500mm, very good for quick installation to save time and cost.
* Custom designs. All the panels are prefabricated according to customer's specifications, designs, drawings and special requirements, ready for installation.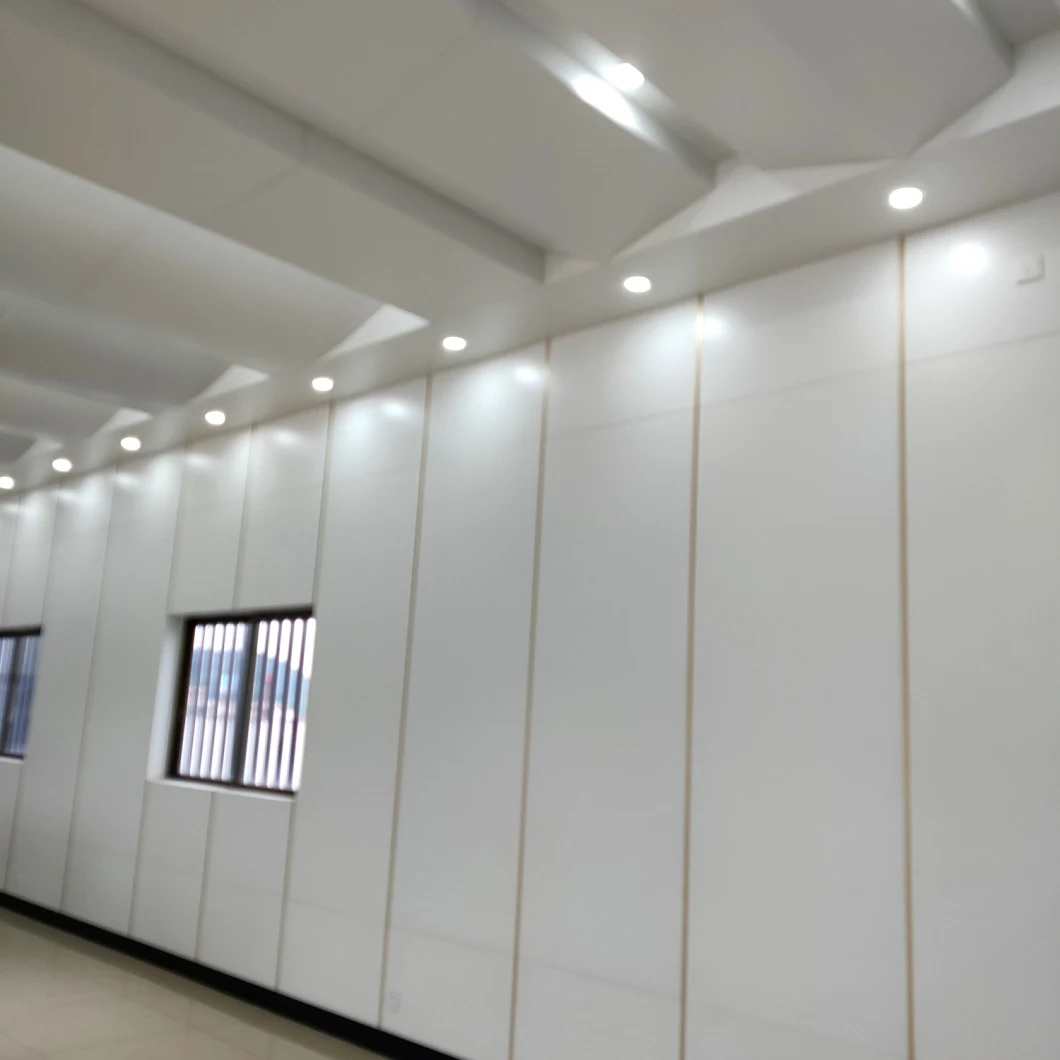 Anodized Aluminum honeycomb composite panel for wall and ceiling decoration

The aluminum honeycomb sandwich panel is composed of fully alumimium materials, the sandwich core is 0.05mm~0.08mm thick honeycomb aluminum foil core and the top and bottom sheets are 0.5mm~1.5mm thick pre-coated aluminum sheets. With artificial wood/stone/marble/granite textures and colors, aluminum honeycomb sandwich panel is very popular for building decoration and furniture.



Aluminum honeycomb panel is made from pre-coated aluminum sheets and honeycomb structure aluminum foil core by sandwich lamination. We can produce the aluminum honeycomb panels as per customer's requirements for thickness, sizes, designs, colors and installation methods.



Specifications

Thickness of panel: 6mm, 8mm, 10mm, 15mm, 20mm, 25mm, 30mm, 35mm...........300mm.
Size: 1220x2440mm or customized sizes, maximum size 2500x12500mm
Weight: 3-15kg per square meter based on thickness 6mm~300mm
Strength>0.89MPa
Available colors: Solid colors, wood textures & colors, stone/marble/granite textures & colors.

How the honeycomb panel is made

The honeycomb panel is typically made up of 5 layers by sandwich lamination: facing skin, adhesive, honeycomb core, adhesive and back skin.
Front and back skins: materials with high tensile and compression strength are best suited to being skins, i.e. aluminum, galvanized steel, stainless steel, fiberglass, HPL etc.
Adhesive varies widely by application: high strength or adhesion, high temperature, low temperature, etc.
Honeycomb Core: A variety of honeycomb cores are available as per design requirements to make various thickness of sandwich panels.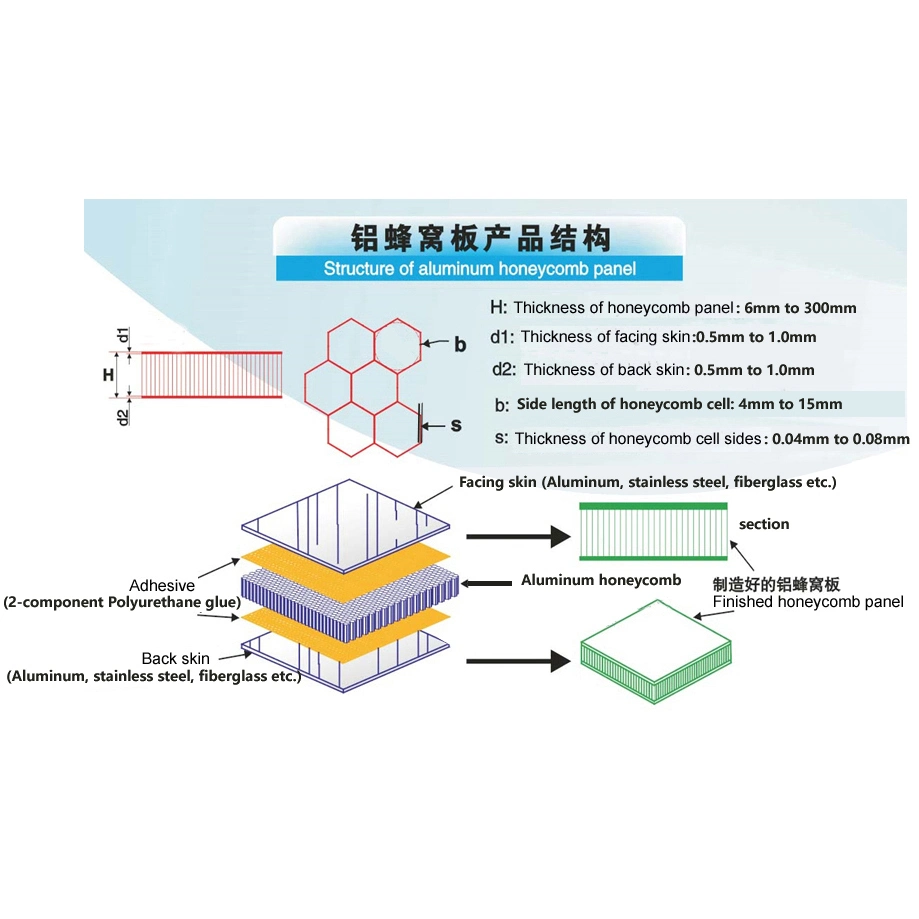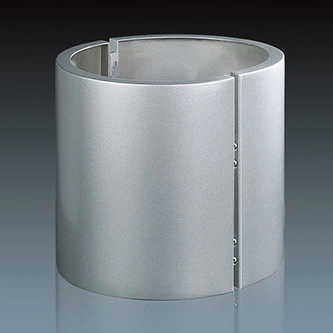 As a new type of Aluminum composite panel, the aluminium honeycomb sandwich panel is featured with light weight, high stiffness and strength, good flatness and resistance, economical costs and easy for fabrication and installation. Aluminum honeycomb panel is very suitable and popular for building decoration (walls, ceilings, canopies, partitions, roofs etc.) and tables, cabinets, shelves, furniture, boards of automobiles or vessels etc.

The aluminum sandwich panel is made from coated aluminum sheets with solid colors or with stone/marble/granite textures & colors and honeycomb structure aluminium foil core by sandwich lamination, also called as aluminum honeycomb panel. The colors can be customized as per design requirements. The aluminum honeycomb panel with 3D wood textures and colors is very good alternative for wood panel to make lightweight, strong and durable applications.

Typical installation of Aluminum honeycomb panel for wall cladding and decoration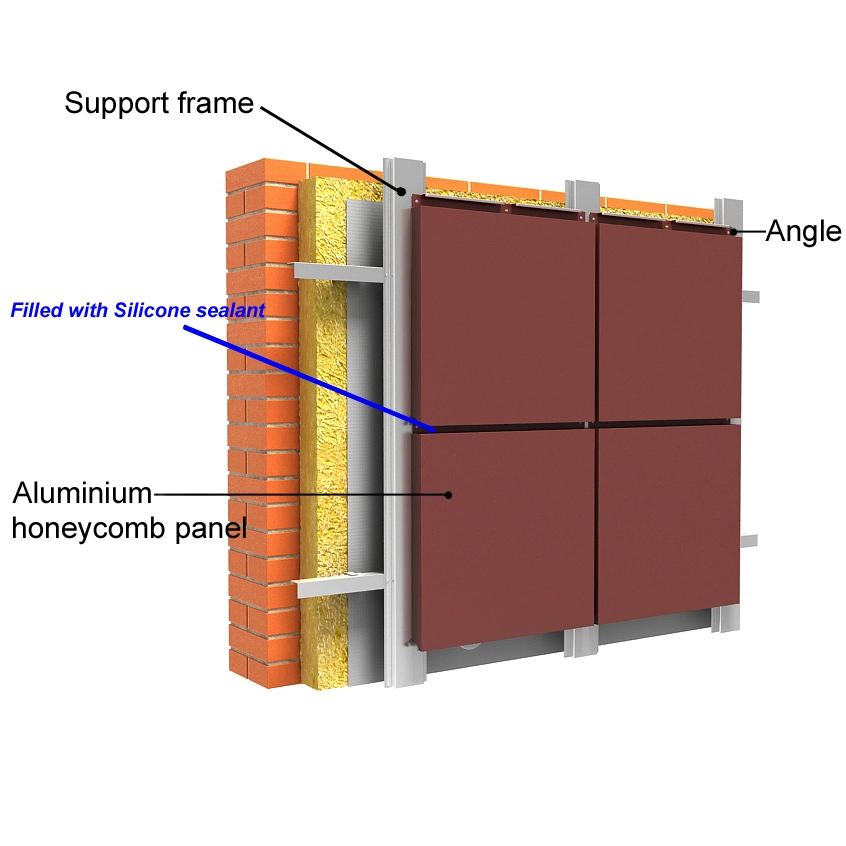 Advantages

Aluminum honeycomb panel is a lightweight strong sandwich composite laminated panel, the weight of aluminum honeycomb panel is only 3kg to 10kg per square meter for panel thickness of 6mm to 300mm and the regidity is more than 1.5kN.sqm/m , with prefabrication and assembly of fittings according to framing system, you can easy install the honeycomb panels to the buildings, also very popular for envelope and decoration of interior & exterior walls, partitions, facades, ceiling and canopies. Aluminum honeycomb panel or stainless steel honeycomb sandwich panel is the best alternative materials for single aluminum panel or stainless steel panel because of the competitive cost and much lower weight, much better flatness and much higher strength. It's a green and environment-friendly building and decoration material, trending the construction and decoration industry.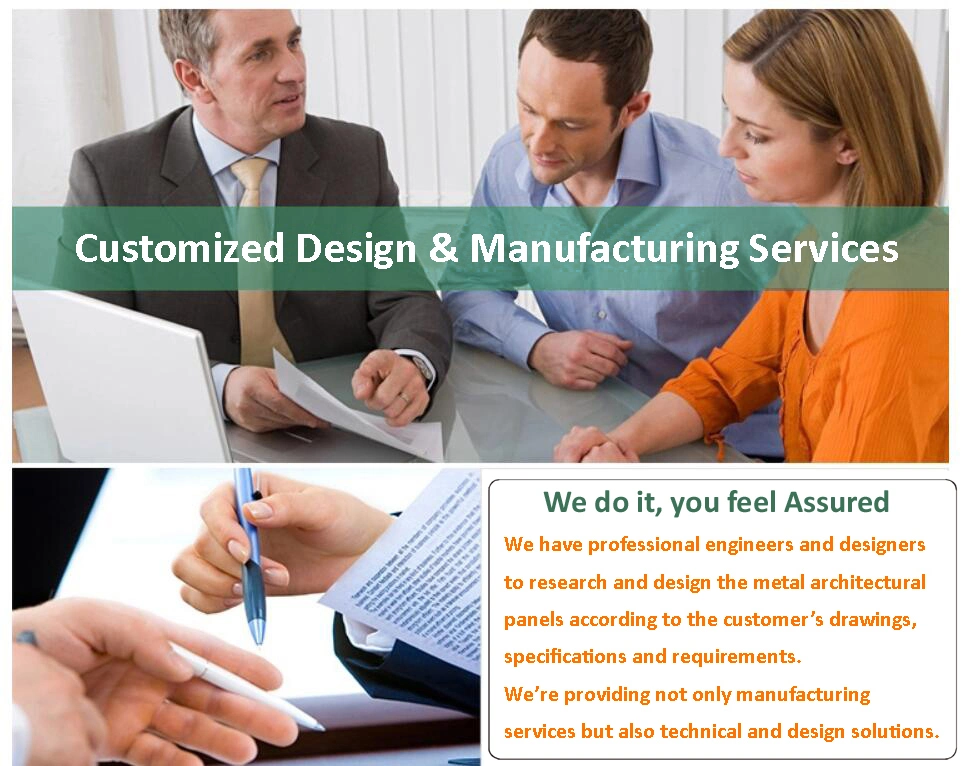 Features

• Low weight and competitive cost
• High stiffness and strength
• Easy to fabricate and install
• Recyclable
• PVDF coating or anodized finish aluminum facing skins for good anti-corrosion performance and high resistance.
• Aluminium facing skins are available in a range of thicknesses from 0.5mm to 3.0mm as per design requirements
• Panels can be produced with different aluminum sheet thicknesses on front and back faces and panel thicknesses as per custom design requirements for weight, strength and installation.
• Aluminum faced panels are chemically cleaned: suitable for painting or the application of decorative laminates
• Brushed and anodised aluminum finishes are also available
• Aluminum honeycomb cell size is 4mm to 8mm as request.
• Wide selection of Joiners &Assembly Accessories are available.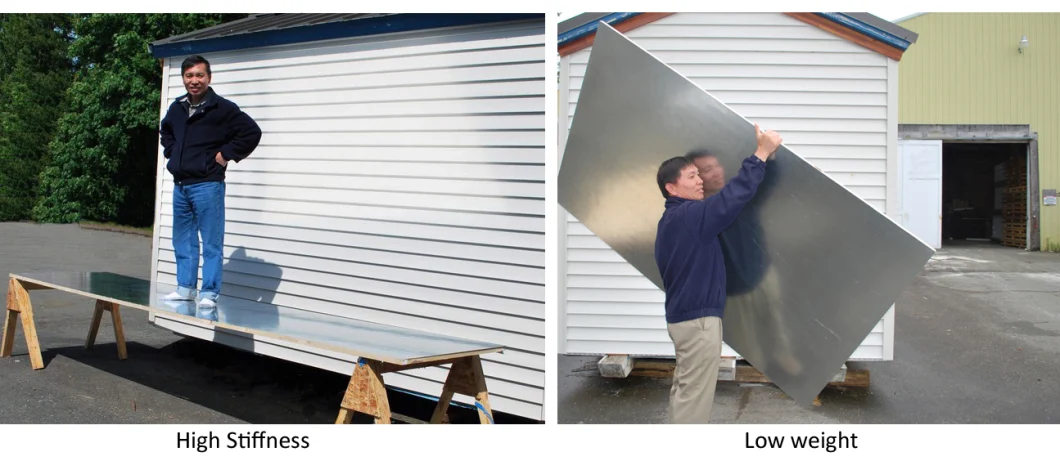 Application
Architectural wall Cladding and decoration

Architectural Rainscreen Facades and canopies envelope.

Lightweight interior and exterior architectural panels.

Aerospace, Marine & Transport Flooring, ceilings, Walls & Partitions

Silk Screen Printing Tables, doors and cabinets

CNC Vacuum Bases

Lightweight Floors, Walls, partitions, canopies, Ceilings, roofs etc.

Special Purpose Panel Design.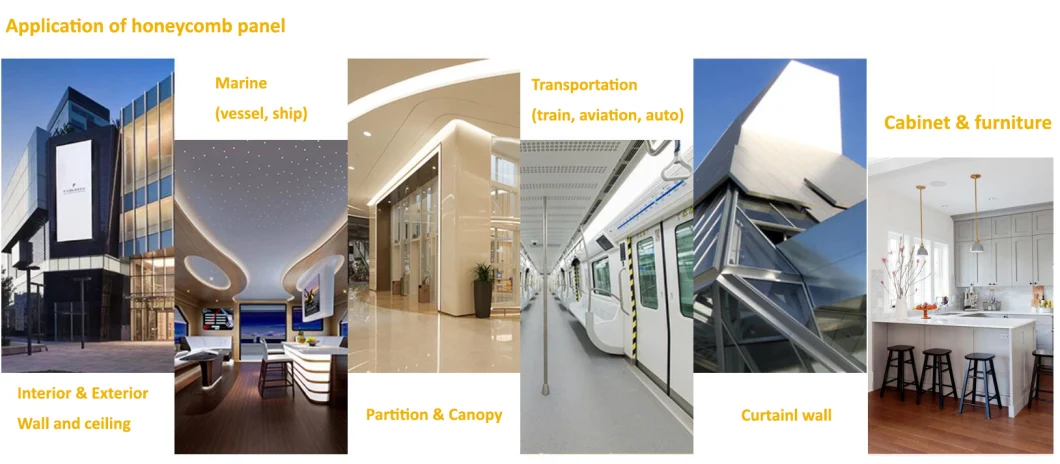 Manufacturing Procedure

Roller coating or anodized surface, unrolling and cutting aluminium sheets, punching corners, bending aluminum sheets, supplying adhesive (glue) to front and back panels, unfolding aluminum honeycomb core, cutting out and putting honeycomb core into back panel, putting front panel, fixing front and back panels, putting sandwich panels into laminating machine, laminating, checking and finishing. To make panels ready for installation (for architecture cladding and decoration), asembling accessories to the panels and then packing for shipping.

Project Gallery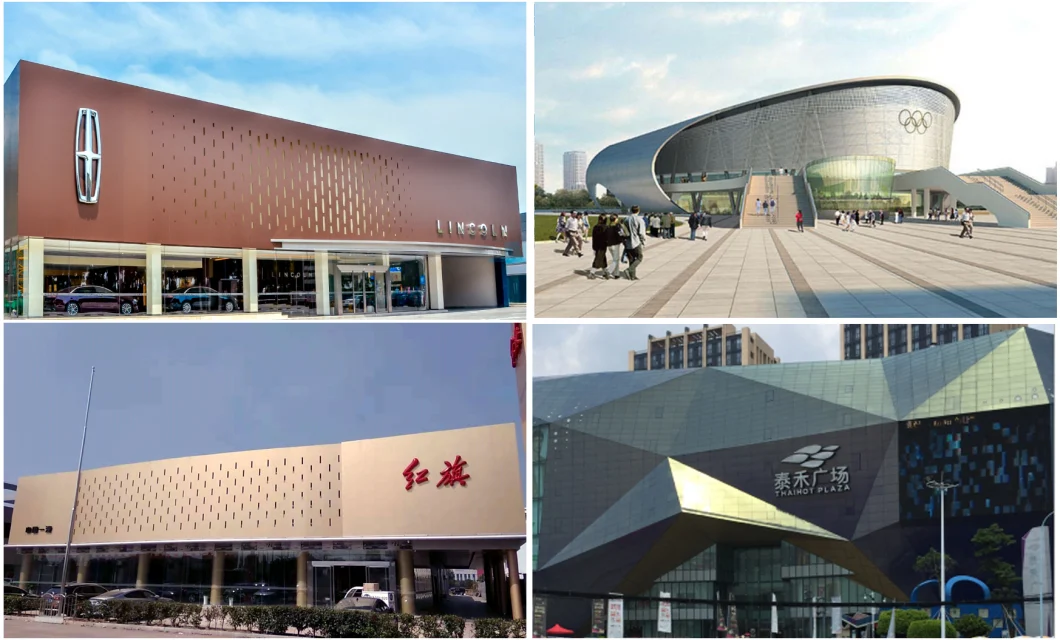 Packing