Lightweight Horizontal Precast Concrete Wall Panel Making Machine
EPS Wall Panel Machine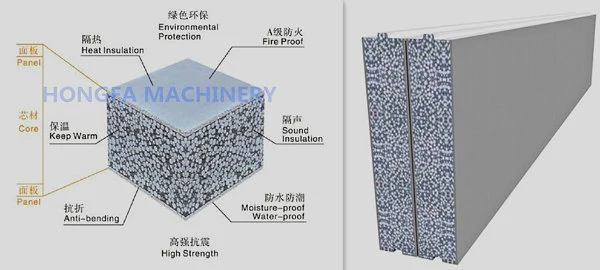 What is EPS light weight wall panel made by Wall Panel Machine:
EPS sandwich wall panel is a new type of high-grade light wall panel material with EPS mortar as core material, calcium silicate board as the surface material and properly mixed with fly ash, slag and additives, and the panel formed by the EPS wall panel machine.
Product size: length 2440mm, width 610mm, thickness 60-180mm (size and thickness can be adjusted). The two surfaces of the new type composite sandwich board are composed of high strength water resistant calcium silicate board with good waterproof properties; good thermal insulation EPS bonding mortar as Core material; The product is of structural function , waterproof and thermal insulation performance, mainly used as building wall partition.
This kind of EPS Sandwich Wall Panel is provided with comprehensive advantage that other wall panel can't compare with: solid, lightweight, thin body, high strength, impact resistance, strong hanging force, heat insulation, sound insulation, fire prevention, waterproof, easy cutting, can be arbitrary slot, without rendering coat, dry decoration, environmental protection. Achieving the purpose of saving energy, improving energy efficiency, Put the construction industry from traditional wet type construction to advanced dry type construction, thus realizing residential parts production industrialization, modernization of technical equipment, intensive production and legal application promotion, construction and equipment integration.

At the same time also can reduce wall occupying space, increase the rate of using residential space, reduce structure load, promote building aseismic ability and safety performance, reduce the comprehensive cost. This product can be widely used in all kinds of high, multi-story building as nonbearing wall, also can be sound insulation, fire partition wall. This product's application is a new breakthrough of the world's wall materials reform, this wall panel have tested by the relevant institutions and its strength, sound insulation, fire resistant, radioactive, water resistance and other performance indexes all reach or over the relevant national standards.

How is the EPS Light weight wall panel produced by wall panel machine?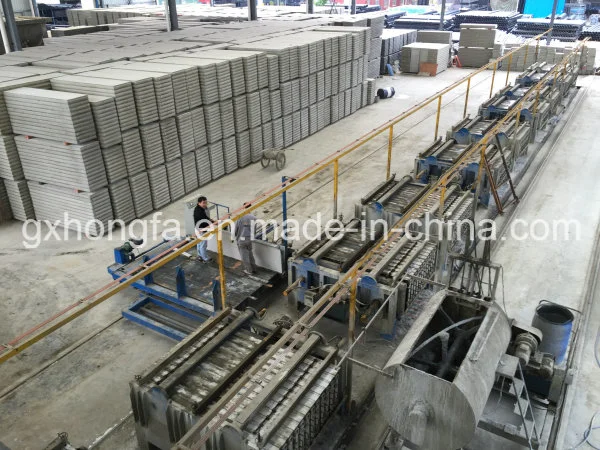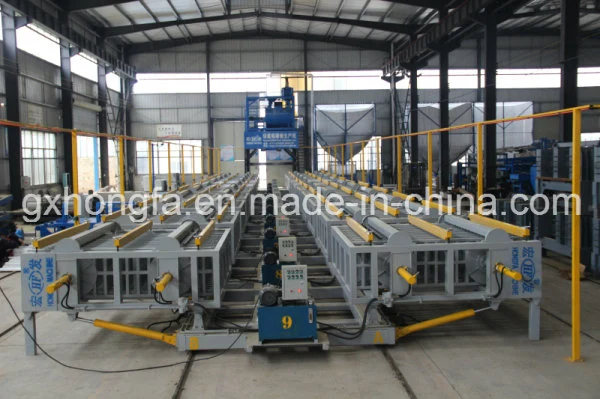 Take a
n
EPS Wall Panel production line with annual capacity 200,000
m
2
for
example
(700
m
2
/ day)
:
(
1
).
A
n
EPS Wall panel production line with annual capacity 200,000
m
2
.
(
2
).The raw materials cost to produce
one
square meter of EPS Wall panel ( take 90mm thickness panel
for
example).
Materials

Cement

Fly ash

EPS

additive

Silica panel

Water and power

Labor costs

total

RMB/

m

2

8

3.4

6

0.5

1

3.4

0.52

3

3

4.82
(3).
Costs above
calculated bas
ed
on the below cost table
:
Materials

Cement

(

ton

)

Fly ash


(ton

)

EPS

(

ton

)

Additive

(

ton

)

Silica panel

(

m

2

)

Water

Power(kw)

Worker salary

(

pe

rson

/

m

onth

)

Price

(

RMB

)

330

140

13000

5000

6.7

0.5

0.9

3000
(4).Other
costs
Cost categories

Management

costs

Equipment depreciation

Depreciation

of buildings

Maintenance Charge

total

RMB/

m

2

1.00

0.50

0.30

0.20

2.00
(5).Bas
ed
on the above
table
, the total production cost is:
37
RMB
/
m
2
.
(6).
Annual
Estimate
Benefits
According to China domestic normal selling price:EXW
65
RMB/
m
2
Annual

O

utput

V

alue

(RMB)

Selling expense(RMB)

Annual

production cost(RMB)

Annual

Profit

s




(RMB)

65×20

0,000

m

2

13

,

00

0,000

×5%

20

0,000

x 37

13

,

00

0,000

-

650,000

-

7

,

4

00,000

13

,

00

0,000

65

0,000

7,4

0

0,000

4,

9

50,000
How are the land,water,power required to set up an EPS light weight wall panel making machine?
Water
requirement
s
:
to produce
60
m
2
panel
(9 cm thick
ness as
example) required
one
ton of water. No special requirements for water quality,
clean
water can be used for production.
E
lectricity requirement: installed power 30 kw (depending on the capacity).
Requirements on air and steam
:
Air compress
or and boiler.
Land requirements
: 1200-200
0
m
2
workshop
and
9 meters
high
(depending on the capacity).

Are your company is the manufacturer or trading company of the EPS wall panel making machine?
We are the direct factory,Hongfa company is the leading and the most influential manufacturer of the EPS light weight wall panel making machine,concrete block making machine and other wall building materials in China from the 1990s.
Hongfa provides our clients one-stop solution for the EPS sandwich wall panel production line;from us
the clients can share our best quality machines and the most updated technology in the wall panel making industry.
How to contact your EPS wall panel making machine factory?
Our company name: Guangxi Hongfa Heavy Machinery Co.,Ltd
Add: Yilingyan Industry Zone, Nanning City, Guangxi China
Website: gxhongfa.en.made-in-china.com

EPS Wall Panel Making Production Line Machine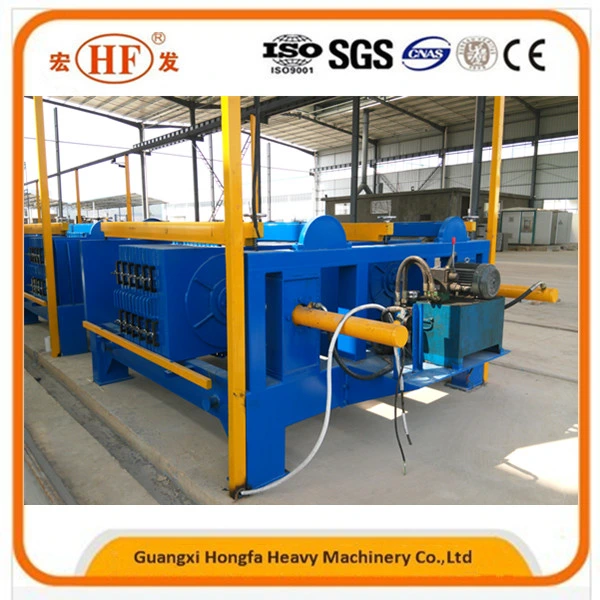 2016 Hot Investment Project Light Weight EPS Wall Composition board Making Machine
Product Description
(1). What is the main materials of the EPS Wall Panel Machine used to make the light weight sandwich wall board?
Main raw materials of EPS wall panel are: fly ash, slag, ceramic, portland cement and EPS foam particles, the production process is simple and low cost.
(2). The Concrete wall panel is suitable for modern building standard.
The overall world development trend of brick from clay to non-clay, from solid to hollow, from the small to large, from heavy to lightweight, from low intensity to high-strength, from high to low energy consumption. And the project is stressed to wall lightweight, high strength, thermal insulation, waste utilization, energy conservation and other functions.Therefore, the implementation of the project is imperative. The panel can meet the requirements of the modern building standard.
(3). Rich and Extensive Sources of Raw Materials for making EPS wall board.
The production of wall materials must be rich and extensive sources of raw materials. The main raw materials of wall panel are industrial residues,fly ash, slag and EPS foam particles,which not only is recyclable and reducing pollution,but also uses inexpensive ordinary chemical raw materials.The above two kinds of sources of raw materials are abundant and extensive.
(4). Obvious Advantages of Industry Competition
EPS new green wall panel has five features:
(A) Lightweight: The raw materials used are Lightweight aggregates, fly ash,etc, non-reinforced concrete, gravel and other heavy feedstock. So it has the characteristics of lightweight, which is only 1/16 weight of the brick and concrete structure.It can significantly reduce the vertical load of the building structure and reduces building weight and project cost.
(B)Insulation Resistance: As this new wall panel is core of EPS insulation materials, which insulation performance is extremely advantageous and meet the building energy efficiency design standards, and rank first among similar products.
(C) Permeability Resistance: The bibulous rate of this new wall panel is only 3.3%,which has reached the international advanced level in the same industry.
(D) Fireproof performance: this kind of wall panel is non-burning, and according to the testing, it is reasonable fireproof materials, for the 90mm thickness wall panel, the fireproof performance can be more 3 hours.
(E) Soundproofing: As new wall panel is using EPS as core, it has good sound insulation and air aspiration, which is more than 40 db sound insulation.
(6). With low business risk for establishing the EPS sandwich wall board machinery.
(A) long-term stability advantages: Due to the limit of functional requirements of the restrictions and sources of raw materials needed to be broad and rich , but also by limiting the requirements of the human environment, the wall construction material development developers is relatively difficult.Once this kind of wall material is successfully developed and is recognized by the government and society,its competitive advantage will be relatively stable and long-term business in the market.
(B) Mechanization in production, so less workers but high output and stability.
(C) It is a comprehensive utilization of the industrial wastes project, and will get a great support from the Government.
Packaging & Shipping
Sea Worthy Package of Automatic Operation Vertical EPS Partion Wall Plate Making Machine
Our Services
The three types of the cement wall board forming machine:
1: Horizontal type EPS wall board forming machine: high level of automatic operation,fewer workers required.
Horizontal Type
Overall dimensions
Power
Output with different thickness/pieces per mold
60mm
75mm
90mm
100mm
120mm
150mm
2750x2504x1359 mm
3kw
16pcs
14pcs
12pcs
12pcs
10pcs
8pcs
2: Automatic vertical type: automatic operation,high output,fewer workers required.
Automatic Vertical Type
Overall dimensions
Power
Output with different thickness/pieces per mold
60mm
75mm
90mm
100mm
120mm
150mm
3380x3200x2680 mm
4kw
40pcs
36pcs
32pcs
30pcs
26pcs
22pcs
C: Manual vertical type partition wall board making machine: Manual operation,the highest output amount the three types, but requires more workers.
Manual Vertical Type
Overall dimensions
Power
Output with different thickness/pieces per mold
60mm
75mm
90mm
100mm
120mm
150mm
3600x1320x2800 mm
no
58pcs
50pcs
42pcs
40pcs
34pcs
28pcs
Company Information
GUANGXI HONGFA HEAVY Machinery Co.,LTD is a leading name in Concrete EPS Wall Panel Making Machine, Cement sandwich wall panel production line,AAC Block Production Line, Concrete Batching Plant, Fully Automatic Concrete Block Making Machine, Concrete Tile Making Machine, Concrete Pipe Making Machine, Non-Vibration Hydraulic Brick Making Machine, Mining Machinery AndP VC Pallets, Etc.
The machinery production facility established in 1990 is known for its quality, durability and efficiency. Building material machinery is the core business of HONGFA HONGFA Group.
It has four production factories with imported equipment and a large Research and Development centre. The plant area is 110,000m2 employing 1500 including 40 engineers and 150 assistant engineers. The annual sale is approx. 100Million USD covering more than 76 countries such as the United States, Russia, Australia, Brazil, India, Vietnam, Thailand, Sudan, North Korea, Angola, Bangladesh, the Five Central Asian Countries, etc.
Hongfa machinery has many Honours and Recognitions to its credit like:
1. One of Top Ten Influential Brands in China for Brick & Tile Industry
2. AAA Grade Credit Enterprise.
3. Star Enterprise with China Patent
4. China National Enterpriseabiding Contract & Good Faith
5. Quality and Credibility of the Dual-protection Demonstration Unit
6. Advance Quality Management Unit
7. High and New Technology Enterprise
8. Famous Trademark of China
9. Consumer Satisfaction Unit
10.One of Top Ten Good Faith Units
11.Advanced Exporter in China
We have offices and representatives in many countries and contact details are given in the CONTACT US page.
We offer longest international warranty and local support in the industry that speaks for our quality.
We will be happy to serve you please email us with your query on contact information below.
We are Direct factory, NOT AGENT, so the quality and after-sale services is guaranteed.
How about the Guarantee and Installation of the machine?
We provide our clients 3 years guarantee to the main structure of our machines, other company is only one year;and we will send engineer to to clients' site to guide the installation of the machines.
How about the commissioning of the machine and training to workers?
Yes, after finish the installation of the eps wall panel production line, our engineer will do the testing and commissioning, and make the most suitable ratio of the materials to make the panels, and train the workers how to operate and maintain the machines.
Welcome to contact us for more information:
website: gxhongfa.en.made-in-china.com
Contact person: Yuki Yang
Phone:+86 183 7881 3711